2013年11月21日~24日IFATS第11回会議(ニューヨーク)

IFATS NEW YORK 2013 CONFERENCE11th Annual Meeting
November21~24,2013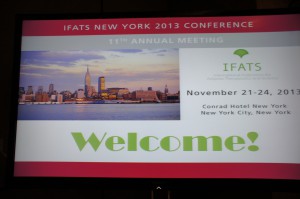 第11回目の脂肪治療学技術の為の国際学会が、2013年11月21日~24日
二ューヨ-ク コンラッド・ホテルにて開催されました。
2013年11月21日木曜日は、10:00am~5:00pmまで Pre 会議シンポジウムが行われました。
International Federation for Adipose Therapeutics and Science.
11th Annual Meeting New York City. New York
The 11th Annual Meeting was held in New York at the Conrad Hotel from November 21~24 2013.
Thursday November 21 (2013) was the pre-Conference symposium. from 10:00am-5:00pm
7:00~9:00pm  
歓迎レセプション / コンラッド・ホテルにて
Welcome reception at the Conrad Hotel.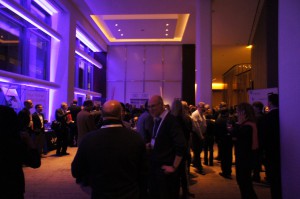 2013年11月22日 (金) / Friday November 22th 2013.
8:15~8:30am
 ・Welcome and Indroduction.
8:30~9:30am

 ・Adipose derived stem cells and Regenerative Medicine
9:30~10:30am

 ・Culture Expansion of Adipose Tissue derivcd stem cells for clinical use and their potential in Fat Grafting.
10:30~11:00am   
  コーヒーブレイクと展示 / Coffee Break and Exhibits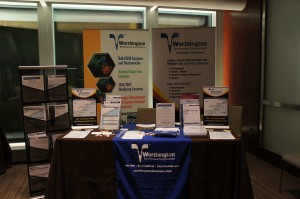 11:00am~12:30pm
 ・Delivery of Adipose derived stem cells via hyaluronic acid hydrogel microcarriers.
 ・Automated encapsulation of adipose stromal vascular fraction cells in alginate hydrgel spheroids
using a direct write 3D printing system.
 ・The effects of the chemotherapeutic agent Tamoxifen on adipose derived stem cells.
 ・Hypoxia influences adipokine production implications for breast cancer prrevention.
 ・Human metabolically active Brown adipose tissue derived stem cells.
  etc…etc…
12:30~1:30pm   
     昼食と展示 / Lunch and Exhibits.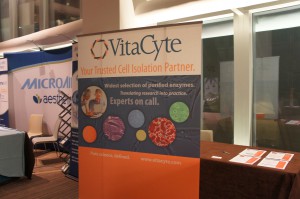 1:30~3:30pm
 ・Is there an ideal donor site of fat for secondary breast reconstruction.
 ・Immediate mega volume fat grafting to the breast following removal of breast implants.
 ・Aesthetic gluteal lipo augmehtation or Aesthetic glutcal remodelling by fat grafting The"French Touch"
 ・Hybrid Augmentation mammaplasty.
 ・Analysis of Human adipose tissue derived Bio scaffolds.
   etc…etc…
3:30~3:45pm
コーヒーブレイクと展示 /  Coffee Break and Exhibits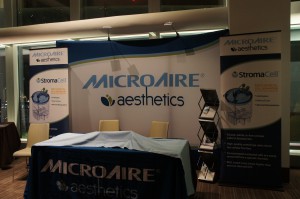 3:45~5:15pm
 ・Clinical panel: Maximizing Fat Graft Surival.
5:15~6:15pm
  Panel: Fundamental Tools, methodologies and challenges in Adipose stem cell Research
  and Transalation for the Clinician.
7:00~10:00pm IFATS Dinner
2013年11月23日 (土)  Saturday November 23th 2013
8:00~9:45am
・Auricular Tissue engineering using ADSCS and 3D scaffold.
・Five years experience of high septal fat injections versus stem cell enriched fat injections for
facial rejuvenution
・Autologous adipose stem cells in treatment of female stress urinary incontinence.
・Improvement of survival rate of fat transplantation by oxygen releasing microspheres
and adipose derived stem cells.
9:45~10:10am
 コーヒーブレイクと展示 / Coffee Break Exhibits.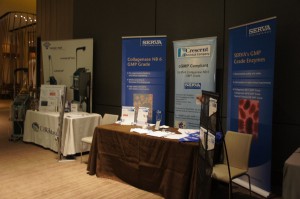 10:10~12:00pm
・Adipose derived mesenchymal stem cells promote breast cancer growth and metastatic spread.
・Predictable and durable fat grafting by targeted protection of the donor microvasculature using 
phosphodiesterase 5 inhibitors.
・The novel approach of generating skin from fat.
・Cellular stress increases TNFalpha response in adipose derived mesenchymal stem cells.
12:00~1:30pm   
      昼食と展示 / Lunch and Exhibits.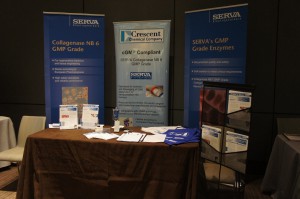 1:30~3:30pm
・Fat grafting: skin and scar regenerative properties.
・Facial fat graft: A variety of site and purpose.
・Liposuction and Lipofilling for the treatment of symptomatic silicone toxicosis of the gluteal region.
・Composite body contouring assited by stromal enriched Lipograft.
・Clinical observation of difficulties and complications of fat grafting procedures.
・Fat grafting as adjuvant to reduce scars in arm lifts.
・Comparison of Botulinum toxin versus stem cell grafting in wide facial scars.
・Out come of fat grafting in non-healing wounds
・Fat grafting a cure for Alopecia?
・Auto logous platelet rich Plasma (PRP) improves adipose derived mesenchymal stem cells proliferation.
・Is the combination of fat grafts and platelet rich plasma eftective and safe.
3:30~4:00pm
     コーヒーブレイクと展示 / Coffee Break and Exhibits.
4:00~5:00pm
Evolving Global regulations for stem cells.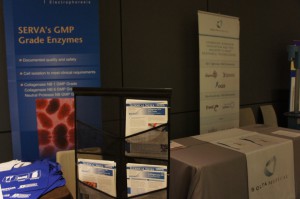 2013年11月24日 (土) Sunday November 24th 2013.
8:00~930am
Clinicul Trials using Adipose derived Mesenchymal Stem cells for Fistulae Treatment.
9:30~10:00am  
  コーヒーブレイクと展示 / Coffee Break and Exhibits.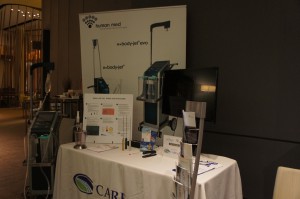 10:00am~12:00pm
・Point of care device for concentrating and harvesting mesenchymal stromal cells from lipoaspirate.
・MInimal manipulation of human adipose derived stem cells from liposuction for clinical applications.
・Rejuvenation of the arm through liposuction and fat transfer an innovative no scar brachioplasty
  technigue.
・stem cell concentration in Pediatric adipose tissue.
・SVF cell counting: comparison of different automated cell counting devices.
12:00pm     閉会 / Adjourn.
次回、12回目の国際学会は2014年11月13日~16日にアムステルダムで開催予定です。
The next 12th Annual meeting of IFATS will be held in Amsterdam, November 13-16 2014 at the
NH Grand Hotel Krasnapolsky Amsterdam. The Nether lands.