第1回自己幹細胞整形療法国際学会
ICAS(1st International Congress of Cell Assited Surgery)
イスタンブール 2011年 5 月28,29日
Istanbul 2011 28th-29th May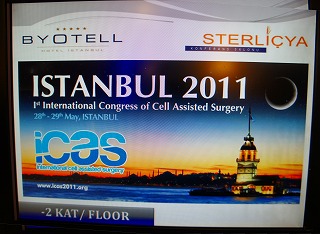 5 月に、第1回 International Congress of Cell Assited Surgery (ICAS) に参加するためイスタンブールに行って来ました。今回は、以前から興味を持っていた「自己脂肪による幹細胞整形療法」についての話し合いでしたので大いに 期待して臨みました。
I went to Istanbul in May to attend the 1st International Congress of Cell Assited Surgery.
This was a very interesting conference, since it was the 1st International Conference on stem cells being applied to especially Aesthetic Plastic Surgery.
5/25, 大韓航空(706便)で成田を出発。ソウルまでは2時間。再び大韓航空(955便)で10時間のフライト後、同日の19:40、イスタンブール・アタチュルク国際空港へ。
L eft Narita on the 25th may by KE(Korean)706 to Seoul(Incheon). It was a 2 hr Flight.After a short rest in Seoul took the Flight KE955 to Istanbul. Landed the same day at 19:40 at Ataturk International Airport. It was a 10 hour flight.
空港でのイミグレーション通過には2時間近くもかかり、長距離フライトの後だったので大変でした。しかもイスタンブールの道路は大渋滞で、ヨーロッパ側にある空港からアジア側にあるホテルに向かう橋を渡るにも長い時間かかってしまいました。
The immigration was a very crowded, it took almost 2 hours. A long wait after a long flight. This Airport was on the European side, the Conference Hotel was on the Asian side. Again a long drive in the crowded streets of Istanbul crossing the Bosphorus Bridge to the Asian side.
やっとのことで学会が開催されるホテル:Byotellに到着。ホテルの部屋は、長い旅の疲れを吹き飛ばしてくれるほど眺めの良い角部屋で、片側の窓からは街全体と 穏やかな山々が、そしてもう一方の窓からははるか遠くに広がるボスポラスの街並みが見渡せました。
The Conference was at the Byotell Hotel. My room was a beautiful corner room. Both the city and Mountain view, and on the other side the distant Bosphorus.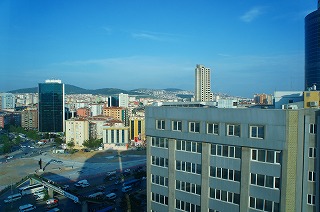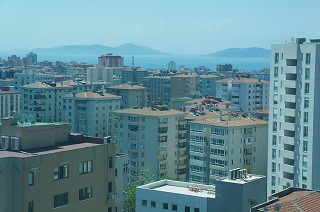 歴史あるこの街を訪れたのは初めてでしたのでいろいろ散策してみました…街の様子については後ほど書くとします…
The next 2 days, since this was my 1st visit to this beautiful and ancient city I made tours of the city. I will write about this later.
5/28学会第一日目  8:00レジストレーション/8:30会議スタート
The 1st day of the Congress 28th May registration was at 8:00a.m.
The Congress started at 8:30a.m.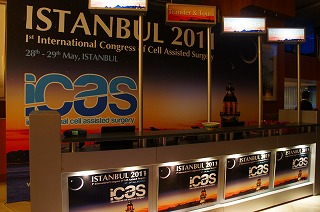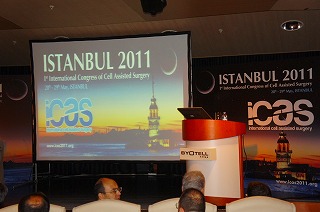 第1セッション 幹細胞について
The 1st session was on stem cells.
1. Mesenchymal stem cells from Lab. to Clinic.
2. The Reality of Stem Cell
3. Stem Cells in Plastic Surgery
4. Cell Metabolism
5. Follicular Stem Cells in Alopecia Areata
6. Human adult stem Cells for future Hepatic therapies.
コーヒーブレイク Coffee Break 10:30-11:00
展示物をみました。
Here we have time to look at the exhibits.
Double wave Vaginal Rejuvenation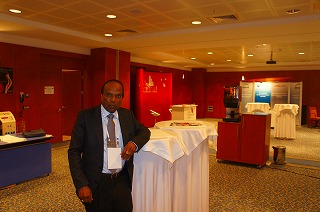 第2セッション 脂肪幹細胞について
After coffee break session 2 11:00~13:30
Adipose Derived Stem Cells.
1. Adipose stem/Progenitor Cells
2. Fat stem Cells to Lipobank
3. Adipose Tissue Engineering in Plastic Surgery.
4. Science of Fat grafting what happens in the tissue.
5. New concepts in Adipose Tissue and Adipose derived Stem Cells (ADSCs)
6. ADSC-Enrichment by Centrifugation
7. Autologous adipose tissue graft.
8. ADSC in Regenerative Surgery.
ホテルのレストランでランチ Lunch at Hotel Restaurant13:40-14:30
第3セッション 脂肪幹細胞の注入について 14:30~16:00
Session 3 Cell assisted Lipotransfer(CAL)
1. Cell Assited Lipotransfer Principles and Practice
2. Cell enhanced Lipotransfer by Lipokit
3. Autologous Fat transplantation
4. Soft Tissue Volume Augmentation with Adipose Stem Cells
5. Cell assisted Fat grafting
6. Fat grafting Surgery
コーヒーブレイクcoffee Break 16:00~16:30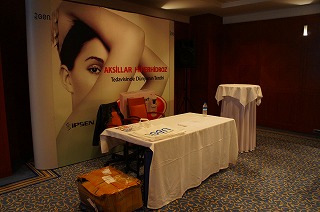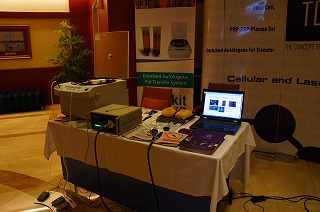 Lipokit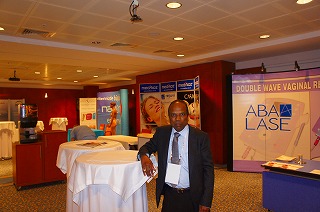 第4セッション バストについて 16:30~19:00
Session4 Breast
1. Breast Lipofilling
2. Breast Augmentation by Stromal Enriched Lipograft
3. Breast Augmentation and Reconstration with Fat grafting
4. Breast reconstructive Surgery with Cell assisted fat grafting
5. Lipo condensation and enriched Fat grafting in Breast Surgery
6. Cell assisted Breast surgery
第1日の会議は19時に終了。
ホテルの周りを散策中、'ここでもまた'大好きな猫たちと遭遇。どこの国でも猫は本当に可愛いですね。
After discussions the 1st day ended at 19:00hrs. Took a walk around the Hotel.
Again here I met a few cats.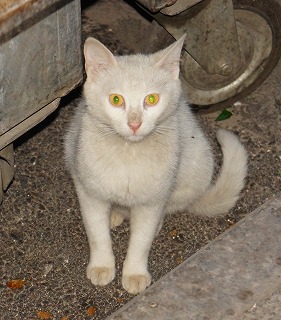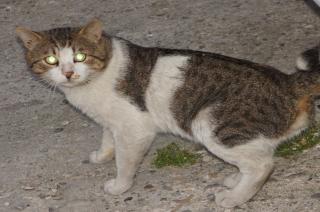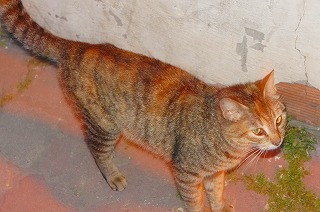 店に並ぶ野菜や果物は実にきれいに並べられています。
The grocery stores arrange their vegetables and fruits in a very orderly way.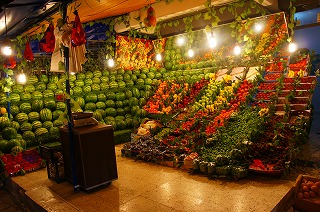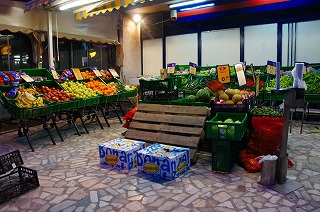 夕食は地元のレストランで。
前菜、サラダ、チーズ、ナンのようなパン、ビーフそしてワイン。
Then entered a local restaurant had some wine and local food. Appetizers, salad, cheese, Nan like bread and beef.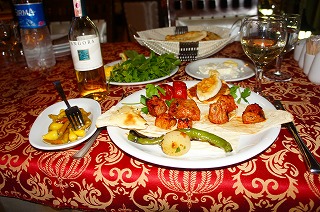 安くて美味しい上、サービスも満点でした。
ここで出会った地元のカップルに、友人がオーナーをしていておススメのレストランがあるということで、明日のディナーの予約を入れてもらいました。
The dishes were good and cheap. The staff were friendly and service was good. Here I met a local couple who were very friendly and introduced to a very good local restaurant. Since the owner was their friend, they made a reservation for me the next night.
就寝。明日はまた幹細胞ついて学びます。
To bed and to learn more about stem cells tomorrow.
5/29 学会二日目(最終日)
May 29th The Second and Last day of Congress.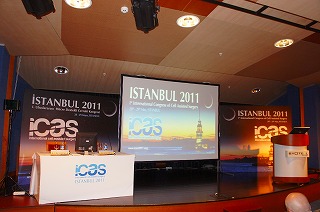 第5セッションは9時にスタート。四肢と性器について
Session5 Extremities and Genital.
The sessions started at 9:00a.m.
1. Fat grafting of Buttocks and Lower Limbs
2. Lower extremities correction with Lipocondensated fat
3. Cell assisted genifal surgery
4. Vaginal Plastic Surgery
コーヒーブレイク Coffee Break 10:10~11:00
Newレーザーのテスト照射中 Testing new Laser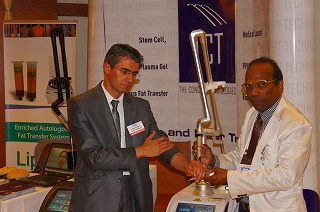 第6セッション 脂肪吸引 11:00~13:00
Session 6 Liposuction
1. Liposuction to Tissue engineering
2. How to increase the results of Fat injection before and after fat grafting.
3. Composite Body contouring
4. Fat grafting applied to Reconstructive & Aesthetic Surgery
ランチLunch 13:00~14:00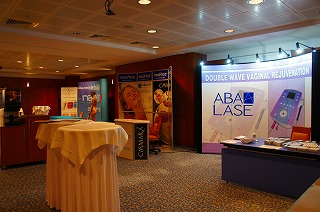 第7セッション レーザー 14:00~15:00
Session 7 Laser
1. Cell Assited Laser Therapies
2. Which Laser to use in which kind of treatment
3. Erbium Pulse
第8セッション PRP 15:00~16:30
Session 8 PRP
1. Platelets in PRP
2. PRP and Adipo derived Regenerative cells
3. Hair regenerative therapy
4. Application of PRP in Plastic Surgery
5. Use of a combination of PRP and Lipostructure in Plastic Surgery
コーヒーブレイクCoffee Break 16:30~17:00
最終第9セッション 顔 17:00~19:00
Final Session 9 Face
1. Face Lifting Assisted by Stromal Enriched Lipograft
2. Cell assisted eye lid surgery
3. Augmentation Rhinoplasty With Fat and Fat Gel
会議19:00終了。
The congress ended at 19:00hrs.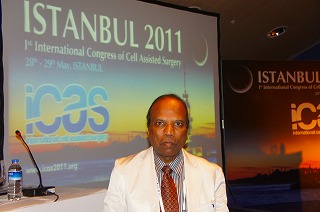 2日間における会議は期待してた通り充実していてとてもためになりました。
To sum up this was an excellent Congress everything put together in just 2 days.
その日の夜は、昨夜出会ったカップルが紹介してくれたレストランへ。
ボスポラスのアジア側の海岸にある<Rigel Fish Restaurant>という店で、ボスポラス橋の眺めが素晴らしいところでした。テーブルは、オーナーが気をきかせてくれ、ヨーロッパ側が見渡せる良い 席に案内してくれたので奇麗な夜景を見ながらの素敵なディナーとなりました。
Well now to enjoy some wine and good food I headed for the restaurant recommended by the local couple that I met the previous night.The beautiful restaurant <Rigel Fish Restaurant> is situated along the shore of Bosphorus <Asian Side> where you have a beautiful view of the Bosphorus Bridge.And on the opposite, the European side, the owner was there and guided me to my seat where the view was splendid.And I enjoyed the wine and meal.
前菜とサラダ Appetizers & Salad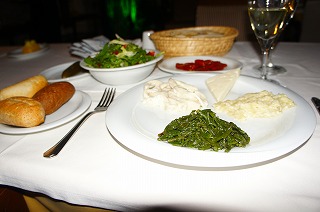 ヨーロッパ側から観たボスポラス Bosphorus and European side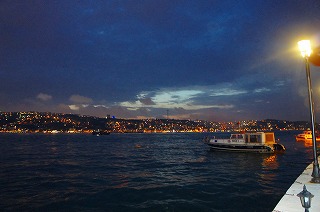 ボスポラス橋 Bosphorus Bridge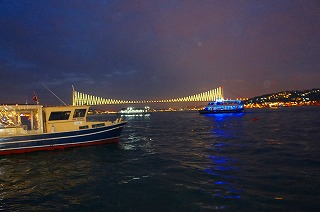 海老のグリル Grilled Jumbo Prawn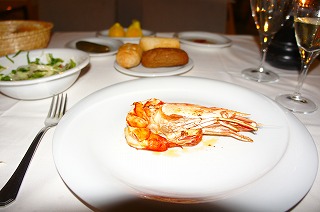 魚料理 Main:Grilled Fish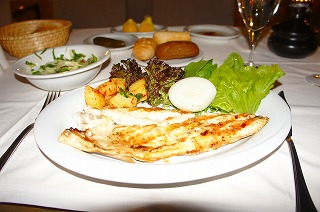 デザート・フルーツ Dessert & Fruits

夕食後、美しい橋を散策。
After dinner, went out of the restaurant to enjoy the beautiful view of the bridge.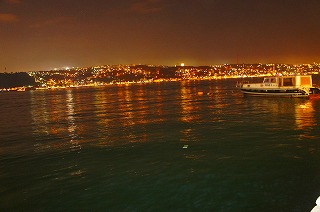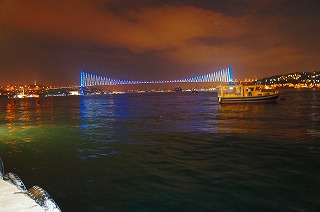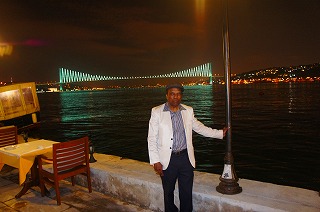 食事も雰囲気も最高のレストラン<rigel>、イスタンブールを訪れましたら是非立ち寄ってみてください。
In Istanbul ,don't miss this beautiful Restaurant with excellent food, wine and view.
www.rigelrestaurant.com
tel(+90)2163210362-3185615